Kisaan Anthem 2 Mankirt Aulakh, Shree Brar, Jass Bajwa, Dj flow, Afsana khan, Shipra Goyal, Karaj Randhawa, Bobby Sandhu, inder kaur, Pardhaan, Gurjazz, Happy Raikoti, Rupinder Handa, Nishawn Bhullar, Palwinder Tohra, Pavitar Lasoi Mp3 Song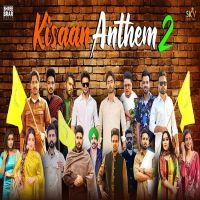 Title: Kisaan Anthem 2
Artists
:
Mankirt Aulakh
,
Shree Brar
,
Jass Bajwa
,
Dj flow
,
Afsana khan
,
Shipra Goyal
,
Karaj Randhawa
,
Bobby Sandhu
,
inder kaur
,
Pardhaan
,
Gurjazz
,
Happy Raikoti
,
Rupinder Handa
,
Nishawn Bhullar
,
Palwinder Tohra
,
Pavitar Lasoi
Duration: 15 Mins 17 Secs
Released On: 09 Mar 2021
Please rate this song
Thank you for rating this item!
Description: Kisaan Anthem 2 mp3 song download, The Song Kisaan Anthem 2 is sung by Mankirt Aulakh,Shree Brar,Jass Bajwa,Dj flow,Afsana khan,Shipra Goyal,Karaj Randhawa,Bobby Sandhu,inder kaur,Pardhaan,Gurjazz,Happy Raikoti,Rupinder Handa,Nishawn Bhullar,Palwinder Tohra,Pavitar Lasoi. This song is composed by Shree Brar and it's music is directed by Flamme. Kisaan Anthem 2 Mp3 song is released under the music label of Shree Brar Music on dated 09 Mar 2021 in Punjabi single track category. You can play it online and even create its ringtone.
Top 20 Songs By
Mankirt Aulakh
,
Shree Brar
,
Jass Bajwa
,
Dj flow
,
Afsana khan
,
Shipra Goyal
,
Karaj Randhawa
,
Bobby Sandhu
,
inder kaur
,
Pardhaan
,
Gurjazz
,
Happy Raikoti
,
Rupinder Handa
,
Nishawn Bhullar
,
Palwinder Tohra
,
Pavitar Lasoi
Select Mp3 Format


Download as 48 Kbps [6.15 MB]

Download as 128 Kbps [14.9 MB]

Download as 320 Kbps [35.88 MB]
Play This Song

Kisaan Anthem 2 Ringtones
Kisaan Anthem 2 Ringtones

Share This Song
You may also like
Mankirt Aulakh,Shree Brar,Jass Bajwa,Dj flow,Afsana khan,Shipra Goyal,Karaj Randhawa,Bobby Sandhu,inder kaur,Pardhaan,Gurjazz,Happy Raikoti,Rupinder Handa,Nishawn Bhullar,Palwinder Tohra,Pavitar Lasoi Kisaan Anthem 2 mp3, Mankirt Aulakh,Shree Brar,Jass Bajwa,Dj flow,Afsana khan,Shipra Goyal,Karaj Randhawa,Bobby Sandhu,inder kaur,Pardhaan,Gurjazz,Happy Raikoti,Rupinder Handa,Nishawn Bhullar,Palwinder Tohra,Pavitar Lasoi new song
Kisaan Anthem 2 Mankirt Aulakh,Shree Brar,Jass Bajwa,Dj flow,Afsana khan,Shipra Goyal,Karaj Randhawa,Bobby Sandhu,inder kaur,Pardhaan,Gurjazz,Happy Raikoti,Rupinder Handa,Nishawn Bhullar,Palwinder Tohra,Pavitar Lasoi song download
Kisaan Anthem 2, Mankirt Aulakh,Shree Brar,Jass Bajwa,Dj flow,Afsana khan,Shipra Goyal,Karaj Randhawa,Bobby Sandhu,inder kaur,Pardhaan,Gurjazz,Happy Raikoti,Rupinder Handa,Nishawn Bhullar,Palwinder Tohra,Pavitar Lasoi
Tags: Kisaan Anthem 2 mp3 song download, Mankirt Aulakh,Shree Brar,Jass Bajwa,Dj flow,Afsana khan,Shipra Goyal,Karaj Randhawa,Bobby Sandhu,inder kaur,Pardhaan,Gurjazz,Happy Raikoti,Rupinder Handa,Nishawn Bhullar,Palwinder Tohra,Pavitar Lasoi Kisaan Anthem 2 full mp3, Download Kisaan Anthem 2 Punjabi Single Track, Kisaan Anthem 2 by Mankirt Aulakh,Shree Brar,Jass Bajwa,Dj flow,Afsana khan,Shipra Goyal,Karaj Randhawa,Bobby Sandhu,inder kaur,Pardhaan,Gurjazz,Happy Raikoti,Rupinder Handa,Nishawn Bhullar,Palwinder Tohra,Pavitar Lasoi on riskyjatt
©2009 - 2021 RiskyJaTT.Com