Chobbar Lyrics - Nijjar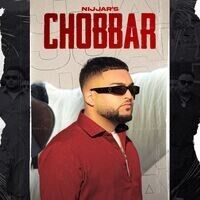 Title: Chobbar
Album: Chobbar
Singer: Nijjar
Music: Deep Jandu
Lyricist: Nijjar
Label: Nijjar Inc.
Category: Single Track
Released: 04 August 2022
Chobbar Lyrics by Nijjar, Chobbar song is sung by Nijjar. Chobbar song lyrics are written by Nijjar and music of new song is given by Deep Jandu. Chobbar Mp3 song promote by Nijjar Inc. and released on 04 August 2022 in Punjabi single track category.
Chobbar Lyrics
Oh

Akh Chobbar Di Bina Khade Maal Naturaly Laal

Taah Nu Kude Chari Rehndi Aa

Mudke Ni Chalda Oh Chaal

Kare Bura Haal Sadi Maari Sat Yaad Rehndi Aa



Wagona Ki Rovera Ja Gadd Firda

Jatt Hoke Baakiya To Add Firda

Tuke Kite Bina Babe Bina Dhon Balliye

Te Veham Badde Dharnaada De A Kadd Balliye

Jatt Firda Ae Lainda Ni Swaad

Firda Azaad Janta Ta Sarhi Rehndi Aa



Akh Chobbar Di Bina Khade Maal Naturaly Laal

Taah Nu Kude Chari Rehndi Aa

Mudke Ni Chalda Oh Chaal

Kare Bura Haal Sadi Maari Sat Yaad Rehndi Aa



Kayi Door Dekh Kehan Kam Theek Na Kare

Bina Galon Bahuti Kise Di Tareef Na Kare

Kam Sare Jehre Banda Koyi Shreef Na Kare

Kanda Kadna Ta Kadna Udeek Na Kare



Vair Pyaar Ni Pugayea Kude Naap Tol Ke

Howe Action Mitra De Ik Bol Te

Na Dekhde Aukaat Na Din Fe Raat

Jithe Fas Gayi Garaari Dinde Tak Bhorde

Piche Howe Alraha Di Daar

Jithe Hon Yaar Lod Kude Badi Rehndi Aa



Akh Chobbar Di Bina Khade Maal Naturaly Laal

Taah Nu Kude Chari Rehndi Aa

Mudke Ni Chalda Oh Chaal

Kare Bura Haal Sadi Maari Sat Yaad Rehndi Aa



Oh

Kathi Nukre Te Modde Utte Raifle Rakhe

Laake Warm De Utte Jatt Mehfal Rakhe

Laake Daaba Nal Kude Asi Dabal Rakhe

Napp Jutti Thalle Bade Ne Clever Rakhe



Oh Yaara Nal Parhe Yaara Piche Arhe Aa

Ginti Ni Sukh Nal Sachi Bade Aa

Nijjar Ne Dekheya Ni Nafa Nuksaan

Kon Patt Laoga Koke Jithe Asi Jarhe Aa

Jaana Jatt Diya Jatt De Jo Yaar

Poora A Pyaar Much Tahi Khadi Rehndi Aa



Akh Chobbar Di Bina Khade Maal Naturaly Laal

Taah Nu Kude Chari Rehndi Aa

Mudke Ni Chalda Oh Chaal

Kare Bura Haal Sadi Maari Sat Yaad Rehndi Aa
Share This Song
©2022 RiskyJaTT.Com