Nazraan Lyrics - Chandra Brar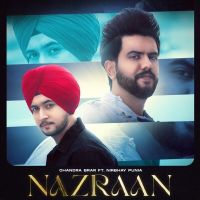 Title: Nazraan
Album: Nazraan
Singer: Chandra Brar
Music: MixSingh
Lyricist: Chandra Brar
Label: MixSingh Music
Category: Single Track
Released: 27 September 2022
Nazraan Lyrics by Chandra Brar, Nazraan song is sung by Chandra Brar. Nazraan song lyrics are written by Chandra Brar and music of new song is given by MixSingh. Nazraan Mp3 song promote by MixSingh Music and released on 27 September 2022 in Punjabi single track category.
Nazraan Lyrics
baanh teri te likhya na chor si,

badli tu odon gal hor si,

sadke tere ni sadke ni tere pyar de,

kinne ku pawengi biba challe tu utaar k,

ajjkal nazraan milauno v tu hat gyi,

akhan merian de vich zulfaan swar k,



chandre naseeb si brar de,

tere naa te loki taane maarde,

haye fer v main akhan band rakhiyan,

kisse v sune si dhokhe naar de,

kithon tak kitian sifarishan tu dassde,

sazaa v na hoi saanu jyondean nu maar k,

ajjkal nazran.....



Boht nede to anjan ja banke nikle door to hi jehde pachn lainde c

Jina nu ajj sade ch lagn boht kamiyan

Tu jida vi sada a kde eh glln vi kainde c

Pyar krn to drda kayar bnaya dunia na

Usse pyar nu vecha ganea which shyar bnaya dunia ne



ishqe di baat viche reh gyi,

zen di swari audi lai gyi,

kinni sokhi moov on ho gyi,

mere nalo uthi othe beh gyi,

jaandi jaandi os than da pta hi tan das ja,

jithon hunde thik ni deewane teri maar de,

ajjkal nazraan.....



edan ni krida haada,

inj nhio chaida

dil ton challe j koi dimag nhio laaida,

adhe raah ch ve raahi kde chaddi da ni hunda,

ghatto ghat manzil de karib chadd ayida,

jhoothi c tu jhoothe tere laare saare sohnie,

jhoothe hi c kite jo daawe tu pyar de,

ajjkal nazran.....
Nazraan Music Video
Share This Song
©2023 RiskyJaTT.Com