Rip Humanity Preet Dhiman Mp3 Song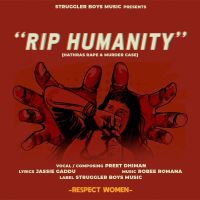 Title: Rip Humanity
Released On: 15 Oct 2020
Please rate this song
Thank you for rating this item!
Description: Rip Humanity mp3 song download, The Song Rip Humanity is sung by Preet Dhiman. This song is composed by Jassie Gaddu and it's music is directed by Sunny Romana. Rip Humanity Mp3 song is released under the music label of Struggler Boys Music on dated 15 Oct 2020 in New Talent category. You can play it online and even create its ringtone.

Select Mp3 Format


Download as 48 Kbps [913.2KB]

Download as 128 Kbps [2.27 MB]

Download as 320 Kbps [5.57 MB]
Play This Song
Rip Humanity Ringtones
Rip Humanity Ringtones

Share This Song
Rip Humanity Lyrics
Ea khuda tu bta kya galti thi meri ...
Toota har sapna laash bhi jalti thi meri ...
Kya dosh mere the itna to bta ...
Kyu szaa yeh mili kya meri thi khta ...
Marr gyi kahin zinda sans kahin chalti thi meri ..
Show whole lyrics of Rip Humanity
You may also like
#RipHumanity #PreetDhiman #NewTalent #Mp3download #JassieGaddu #SunnyRomana #StrugglerBoysMusic #RipHumanity
Tags: Rip Humanity mp3 song download, Preet Dhiman Rip Humanity full mp3, Download Rip Humanity New Talent, Rip Humanity by Preet Dhiman on riskyjatt
RiskyJaTT.Com