Rishte Naate Kapil Kohli, Supranshu Khanna Mp3 Song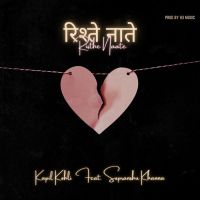 Title: Rishte Naate
Released On: 19 Aug 2021
Please rate this song
Thank you for rating this item!
Description: Rishte Naate mp3 song download, The Song Rishte Naate is sung by Kapil Kohli,Supranshu Khanna. This song is composed by Kapil Kohli and it's music is directed by H3 Music. Rishte Naate Mp3 song is released under the music label of Itskohlionly on dated 19 Aug 2021 in New Talent category. You can play it online and even create its ringtone.
Select Mp3 Format


Download as 48 Kbps [5.21 MB]

Download as 128 Kbps [6.91 MB]

Download as 320 Kbps [7.21 MB]

Download Rishte Naate Ringtones


Play This Song
Scan QR Code to Download
Share This Song
Copy URL:
Rishte Naate Lyrics
Verse 1.
Bachpan ki yaadein hai ye 55 ke dus khilone
Mamooli tha main mujhe kavi banaya mushkilon ne
Sath choda busdilo ne ek ek kar ke
Udaasi ke badal garje barse mere ghar pe
Jimmedari lakh sir pe tabhi karta mai job
Show whole lyrics of Rishte Naate
You may also like
Kapil Kohli,Supranshu Khanna Rishte Naate mp3, Kapil Kohli,Supranshu Khanna new song
Rishte Naate Kapil Kohli,Supranshu Khanna song download
Rishte Naate, Kapil Kohli,Supranshu Khanna
Tags: Rishte Naate song download, Kapil Kohli,Supranshu Khanna Rishte Naate full mp3, Download Rishte Naate New Talent, Rishte Naate by Kapil Kohli,Supranshu Khanna on riskyjatt
©2021 RiskyJaTT.Com